Special Lectures, Workshops & Events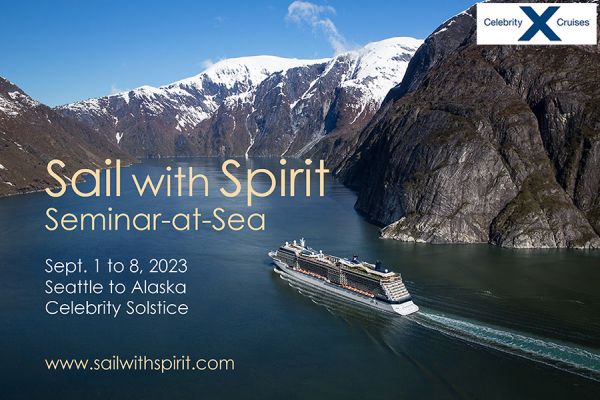 NEW DATE – September 1 to 8, 2023
(Rescheduled from September 2022)
Sail with Spirit Seminar at Sea
I will be one of many speakers on the Seminar-at-Sea — "Sail With Spirit" Cruise to Alaska and would like to invite you to join me and other like-minded Souls on this absolutely wonderful spiritual conference. You will be able to attend as many workshops as you want and have an opportunity to visit the ports as well.
Following are the 2 workshops I will be presenting, however, please visit www.sailwithspirit.com to view all other presenters/workshops being offered:
Stairway to Heaven and the ONE KEY That Opens Heaven's Door
While there are many steps on the Stairway to Heaven, which we have been climbing since our first incarnation, there are certain steps that are extremely important during this particular lifetime. Humanity has had many lifetimes to learn and grow through the challenges we placed in our Life Plan. Since this may be the last lifetime for many Souls on Earth before they ascend into the higher dimensions, it is in our highest best interest to follow these steps.
We will discuss each of these steps as well as the ONE Key that opens Heaven's Door. I have been using this key for approximately 20 years and experienced the "light bulb" effect of its importance when Jesus/Sananda guided me to present this information in one of my classes. While it is a simple step, it seems to be extremely difficult for some humans.
Path of the Soul
Have you ever wondered why you are here; what are you supposed to be doing? Well, we create our life mission (what we want to accomplish during our journey to Earth) and who we want to be associated with to help us accomplish our mission, and we make agreements/contracts with these important individuals.
We will follow the cycle of Life/Death/Rebirth as we plan our life on the Other Side. Learn how we can get through our life lessons and balance our Karma more easily during our physical life. We will also explore what happens after physical death.
Learn why we choose to return and what we can do to make each lifetime better.
Experience a Life Review Meditation to find out where you are on your path and IF any revisions can be made to your contract/blueprint at this time.
I will also offer Angel and/or Soul Purpose Readings, Attachment Releasement sessions and will have a limited supply of my books: Creating Heaven on Earth: A Guide to Personal Ascension; Soul Releasement: Assisting Souls Into the Light; and Darkness: Where Does It Come From? View all books and my 5 CD's.
Again, I would encourage you to visit www.sailwithspirit.com and check out all that is being offered. Should you decide to join us, please click on my name as your referral on the Referral Page.
Thanks and many blessings to you!
Barbara Hardie